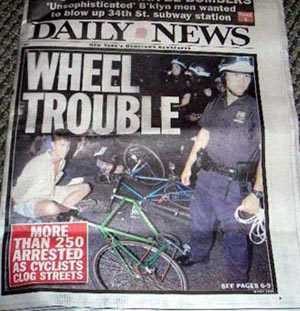 Critical Mass (http://www.critical-mass.org/) is a peaceful gathering of cyclists who ride the streets each month on the last Friday in fun and in support for cities with more sustainable transportation.

In August 2004, the Manhattan Critical Mass in New York coincided with excitement leadingh up to the Republican National Convention (RNC). This general pre-convention activity is seeing more "anti" protests and demonstrations in Manhattatan than any other presidential convention in history. It also inspired the largest Critical Mass in history. One year ago in August, there were an estimated 1200 riders in Manhattan. This year, the estimates were between 5,000 and 10,000 riders, which is the largest ever, anywhere!

The cops were in the house at the start of the ride, and handed out flyers to the cyclists telling how it is unlawful for an assembly of bikes to ride the streets without a permit, unlawful to not stop at red lights, unlawful to ride more than two-abreast, and unlawful to ride on highways, over bridges, and through tunnels.

Of course the Critical Mass rides routinely violate all these ordinances, and do so in a peaceful, harmless and often humorous way. The police, if present, don't seem to mind. They even cheer us on. We're bigger than they are anyway!

This particular Critical Mass was different. It began peacefully. It was huge, and at certain times, stretched out over 42 city blocks.

But about halfway through the 90-minute ride, the police began a divide-and-conquer tactic. Squads of scooter-cops in tactical gear buzzed in to various intersections where cyclists were clogged. The scooter-cops' tactical gear included bunches of plastic zip-tie handcuffs. The cops pulled in and deployed their scooters so as to block the far-side and the near-side of the intersections. A few also blocked the left and right sides. This served to corral the cyclists into a square. Paddywagon busses and vans pulled into the area. The cops put the cyclists on the busses and their bikes in the vans.

According to the Daily News, at least 264 cyclists were arrested for clogging the streets. Vince's photo essay tells the whole story!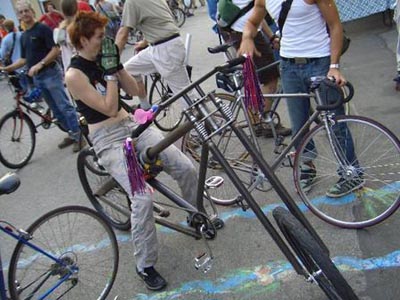 Critical Mass began peacefully, with all kinds of bikes!

It was the largest CM in history. Estimates were between 5,000 and 10,000 riders!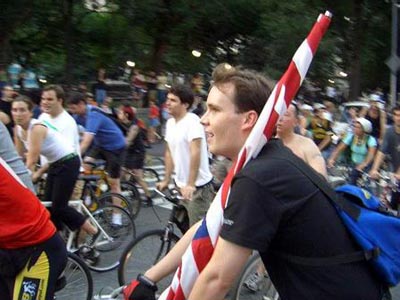 It started out peacefully.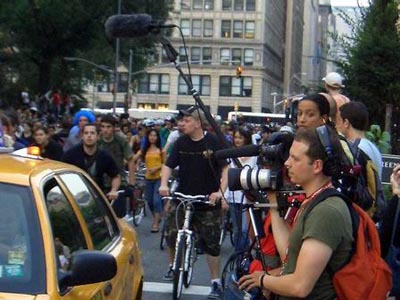 Lots of camera and video and media coverage!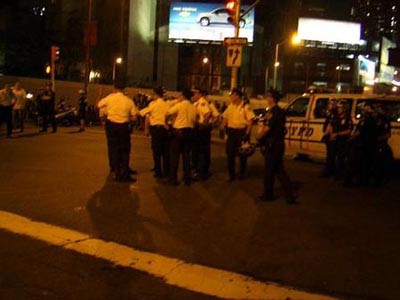 And the cops were in the house.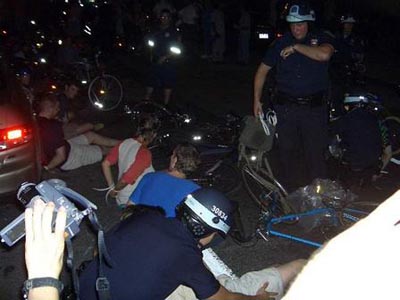 Cops began to make arrests.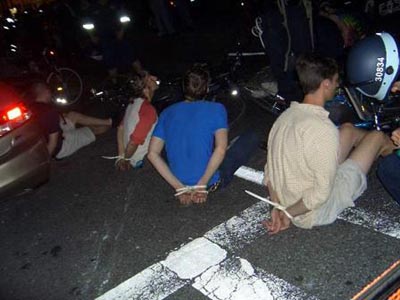 Notice the zip-tie handcuffs.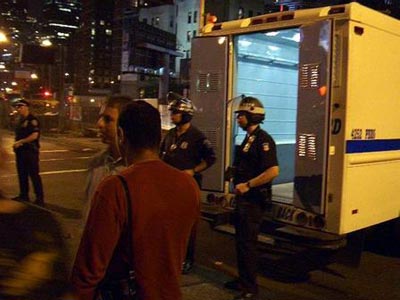 Empty paddywagon, waiting....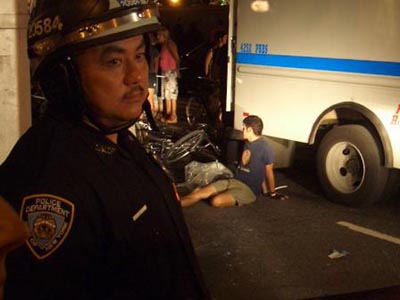 Cops took people and bikes.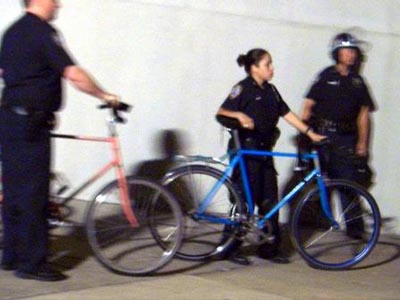 Away go the bikes.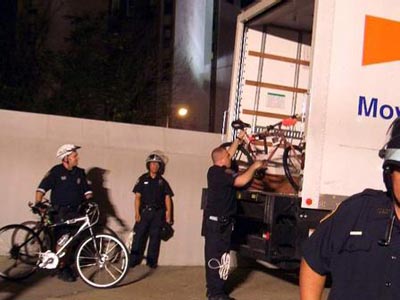 Into moving vans.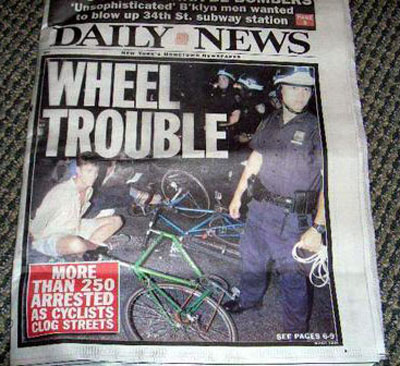 It made the front page of the Daily News.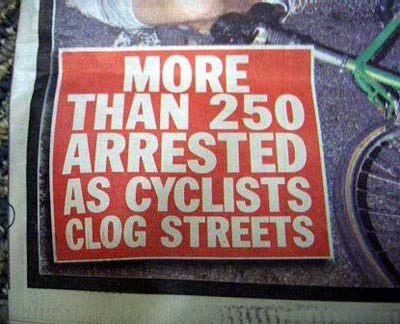 There were probably more busted than this.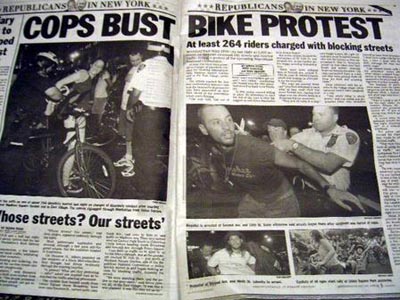 The inside story.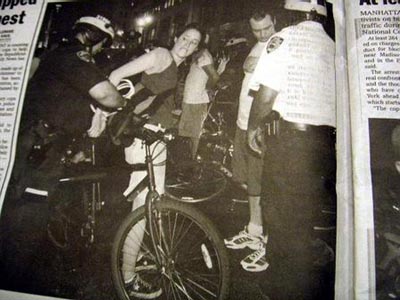 One bust.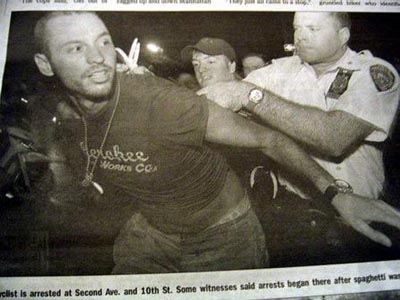 Another bust.